This is still the go-to terror-tied group that the media goes to for whitewashing comment after every Islamic attack for framing the narrative.
Aafia Siddiqui, known as "Lady Al Qaeda," and was convicted of murdering Americans in Afghanistan after she was found with plans for a "mass casualty attack" in the United States, along with a list of New York landmarks.
Aafia Siddiqui demanded that the jury take DNA tests to prove that they weren't Jewish.
Remember that when they try to paint her as a victim of American injustice.
Islamic State demanded "Lady al-Qaeda" in exchange for US hostages
Fully Veiled Muslima jihadi Gets Prayer Time in NYC Trial, Demands Judenrein Jury, Prosecutors Barred from Discussing Islamic terror links
Terror-Tied CAIR Hosted Many Rallies To Free Aafia Siddiqui aka Lady Al-Qaeda, Sister Of Texas Synagogue Hostage Hostage-Taker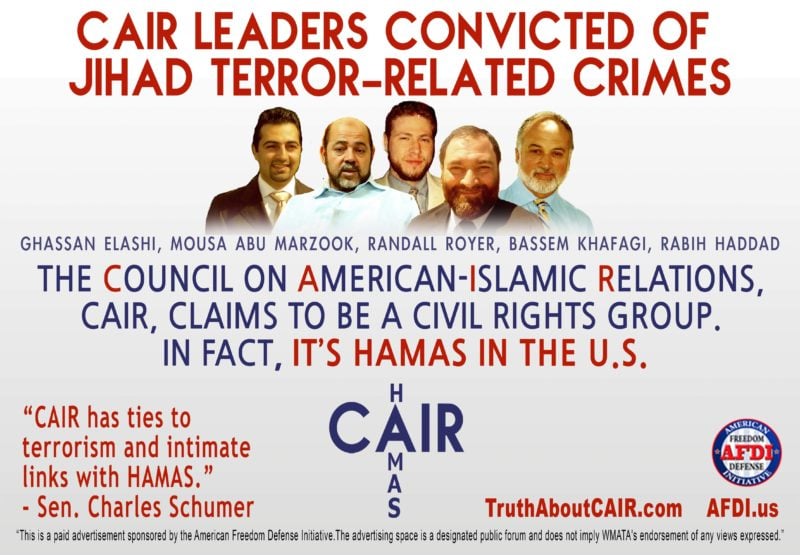 CAIR backgrounder:
I have spent years studying the evidence demonstrating that the Council on American-Islamic Relations ("CAIR") is a terrorist organization operating as a front group for Hamas and its affiliated organizations. I have consulted with FBI agents, CIA agents, local law enforcement officers, and attorneys who specialize in national security law. All of these consultations confirm that CAIR was begun as a Hamas front group to carry out the Muslim Brotherhood's anti-American agenda.
Much, but not all of this evidence, was documented in United States v. Holy Land Foundation for Relief and Development  et al., 3:04-cr-00240-P (N.D. Texas) ("HLF").  I have personally invested hundreds of hours reading written documented evidence and listening to audio-taped evidence that had been introduced at the trial.
The evidence shows that CAIR is a criminal terrorist organization. This conclusion is shared by the United States government. The Department of Justice named CAIR in the federal criminal trial of the Holy Land Foundation for Relief and Development,[1] which concluded with multiple guilty verdicts, as an unindicted co-conspirator in a massive conspiracy to fundraise for, and otherwise pursue, the terrorist agenda of the Muslim Brotherhood and the Palestine Committee, a public relations and fund raising arm of Hamas in the United States.[2]  See generally HLF.[3]  Specifically, CAIR was named as one of the organizations formed by the defendants and co-conspirators to create the appearance of legality in the effort to raise funds and public support for Hamas and its jihad abroad.  As the evidence in the HLF trial demonstrated, these plans were part of the 1993 Philadelphia planning meeting carried out by Muslim Brotherhood and Hamas operatives, a meeting which the FBI secretly recorded pursuant to a lawful court order, the entire transcript of which was introduced into the record at the HLF trial.[4]  Two of the key participants at this Muslim Brotherhood-Hamas planning meeting were Omar Ahmad and Nihad Awad.[5]  Ahmad co-founded CAIR, along with CAIR's executive director Awad, in 1994 soon after this meeting. Ahmad served as CAIR's chairman of the board until 2005 and Awad still serves as CAIR's executive director.
Further, the federal prosecutors successfully resisted every effort by CAIR to have the public designation of CAIR as an "unindicted co-conspirator" removed from the court record and concluded as follows in its brief to the court:
Indeed, CAIR's request to strike its name from the government's co-conspirator's list is moot, since its conspiratorial relationship with the Holy Land Foundation for Relief and Development (HLF) was confirmed by testimony and documentary evidence admitted at trial prior to the date CAIR even filed its brief.[6]
After the convictions, CAIR and another co-conspirator filed motions to have their names stricken from the co-conspirator list.  The trial judge refused based on the fact that the evidence fully supported this co-conspirator designation.  (Filed as Doc. No. 1356 in HLF; see also Ex. B to the Declaration of John Stemberger filed in support of Defendant's opposition to Plaintiff's motion for summary judgment.)
A key piece of evidence introduced at the HLF trial and linked to the Muslim Brotherhood-Palestine Committee-Hamas conspiracy was a "planning memo" which describes the purpose of the "legal" organizations, such as CAIR, that the Muslim Brotherhood sought to establish in the United States:
The process of settlement is a "Civilization-Jihadist Process" with all the word means.  The Ikhwan [Muslim Brotherhood] must understand that their work in America is a kind of grand Jihad in eliminating and destroying the Western civilization from within and "sabotaging" its miserable house by their hands and the hands of the believers so that it is eliminated and Allah's religion is made victorious over all other religions.[7]
In addition, the FBI has publicly stated that it will have no formal or official contacts with CAIR precisely because of the evidence that linked CAIR and its senior management to Hamas and its purposes.[8] Finally, in response to a letter from Congresswoman Sue Myrick, a member of the House Permanent Select Committee on Intelligence, the U.S. Department of Justice recently wrote in relevant part: (above)
---
CAIR Revives its Campaign to Free Aafia Siddiqui

By Steve Emerson, January 20, 2021:

ess than four days after a gunman held four Jews hostage inside a Texas synagogue in a doomed attempt to free a convicted terrorist, the Council on American-Islamic Relations (CAIR) thinks it is ready to renew its campaign to achieve the same objective.

"It's time to push back," CAIR's Dallas chapter director Faizan Syed wrote Wednesday afternoon. "The news coverage around Dr. Aafia Siddiqui over the last few days has been inaccurate, one sided, and made to paint a victim of the war on terror as a terrorist. The Free Dr. Aafia Campaign has developed a media and public resource guide to correct the false narrative."

Syed ended his post with the hashtags #FreeAafia #IAmAafia.

Siddiqui is a U.S.-educated Pakistani serving 86 years in prison for attempting to kill U.S. personnel in Afghanistan. She carried sodium cyanide and various other chemicals when she was arrested, along with documents in her handwriting that mentioned "a 'mass casualty attack' . . . NY City monuments" and "Dirty Bomb: Need few oz. radioactive material."

The U.S. personnel who tried to interview her were unaware that she was left unsecured behind a partition in the room. One of the Army personnel put his M4 rifle down. Siddiqui was able to grab it and open fire, prosecutors said. Her shots missed and she was wounded by return fire.

But CAIR and other Islamist groups in the United States say Siddiqui is innocent, a victim of torture during years of secret detention and someone incapable of the attack as described by the government and the witnesses present.

It turns out CAIR's commitment to Siddiqui's cause goes far beyond the seminars and protests that have been reported this week. CAIR is one of the driving forces behind the "Free Dr. Aafia Movement" and is directly raising money for her defense.

"The Free Dr. Aafia Movement is a joint project between CAIR-Texas Austin & DFW and the Elbially Law Firm who legally represents Dr. Aafia Siddiqui," the Free Dr. Aafia website, created in August, says. "Our goal is to create campaigns, build coalitions, and educate the world about Dr. Aafia so we can one day see her released from prison and returned to her children."

"Together we will Free Dr. Aafia Siddiqui!" a donation link says. "Funds are Collected Through CAIR-TX Austin & DFW for Disbursement."

Attorney Marwa Elbially and the Free Aafia campaign issued a statement Saturday as Malik Faisal Akram held Congregation Beth Israel Rabbi Charlie Cytron-Walker and three others hostage.

"His actions are heinous and wrong," the statement said. "Her case must be addressed through the courts of law. Dr. Aafia and her family are praying for this situation to resolve peacefully."

One hostage was released during the standoff. Akram was shot and killed by law enforcement agents late Saturday night after Cytron-Walker threw a chair at him, allowing the hostages to escape.

Syed's post Wednesday included a link to a "resource guide" to correct what he called a false narrative about her. For example, CAIR and other advocates point to a lack of gun powder residue on Siddiqui's hands after the shooting.

During a December seminar in East Plano, Syed called Siddiqui's case "one of the greatest cases of injustice in U.S. history."

But the Second U.S. Court of Appeals noted that "one of Siddiqui's own witnesses … testified that two rifle shells were recovered from the room, and by a government expert's testimony that the absence of certain forensic evidence from the room was not necessarily inconsistent with the firing of a weapon."

The guide also cites Siddiqui's small build to cast down on whether she could have handled the M4 and switched off its safety in order to open fire. In fact, trial evidence showed that she was trained on handling and shooting firearms while a student in Boston.

Her trial featured testimony from six eyewitnesses, who described the attack in consistent detail. Prosecutors say that her "perjury in this case was blatant and it concerned the central issue in this case – whether she attempted to kill members of the Interview Team."

The guide claims there are no "direct, provable links" to al-Qaida, omitting Siddiqui's 2003 marriage to a nephew of 9/11 mastermind Khalid Sheik Mohammed.

The CAIR guide does acknowledge her frequent antisemitic outbursts but excuses them by saying "she was mentally impaired and should be understood in the larger context of her overall mental health." It also dismisses the fact that terrorist groups, including ISIS and the Taliban, offered to release American hostages in exchange for Siddiqui's freedom. Those efforts are not due to Siddiqui's status, it says, but are efforts by the terrorists to "gain legitimacy by exploiting the case of Dr. Siddiqui. For news outlets to aid and abet these terrorist organizations by making that link is reprehensible and unethical."

On Sunday, the Washington Post described Siddiqui as "a cause celebre in Islamist militant circles, with frequent demands for her release."

That description also applies to multiple American-based Islamist groups, such as CAIR and the Islamic Circle of North America (ICNA), which are championing her cause. But the Post has not reported about this domestic Islamist effort to free Siddiqui.

In addition to the Dallas chapter's leading role in the campaign, CAIR chapters throughout the country have held protests calling for Siddiqui's freedom. At an October rally in New York, two former CAIR officials cast her case in religious terms.

"She carries our faith within her, and our faith has been assaulted when Aafia was assaulted," said Yousef Baig, who used to work in CAIR's Houston office. "Our religion, our book, our faith was desecrated when she was tortured. And our prophet is disappointed because we have not done enough for her."

"Allah is testing us," former CAIR Florida Executive Director Hassan Shibly told the rally. "What are we doing to stand for our sister, for her family, for all those victims of the United States war of terror against the Muslim world. She is another victim of the U.S. war of terror. And the perpetrators will be held accountable, if not in this life, in the next. Rumsfeld, Bush senior, Powell, they are all answering for their deeds at this very moment. And they must answer for each and every Iraqi, Afghani, Pakistani, every person of color, every person throughout the world whose blood has been shed."

It's one thing to ensure a defendant receives a fair trial in a court of law. It's quite another to reject what courts saw as "overwhelming" evidence about a woman who has family ties to al-Qaida.

Perhaps, someday, CAIR "will be held accountable" for that.

Research Analyst Teri Blumenfeld contributed to this report.